Nampak macam excited tak aku update pagi ni? Hiks. Sebab aku rasa macam aku lost dari dunia luar since phone takda ni. Haha. So rindu blog tu membuak walaupun ... Hahah! Sorrylah aku tak update hari-hari macam dulu. Aku bz sangat sekarang. Sabtu lepas gigih masuk office, sambung buat kerja. Ni pun baru lepas siap satu artwork sebelum sambung dengan dua lagi artwork. Demi Yonggg. Hahha takda kena mengena.
Okay, since aku bebas sosial media setiap hujung minggu, aku macam excited bila dapat tau Jonghyun buka kedai. Rasanya macam semalam atau Sabtu pembukaan kedai dia. Rasanyalah. Tapi Sabtu pagi tu, takda pun aku baca apa-apa pasal ni. Anw I'm really proud of this namja. Yelah, umur 25 (korean age) dia dah ada business sendiri. Baguihh. Since dia bukak Korean Dessert, kita-kita ni bolehlah try and
Jonghyun aaa, please bukak branch dekat Malaysia !!!
Nampak cantikkan? Korang kena try (bagi pihak aku) kalau datang Seoul okay? Nahh aku bagi peta sekali untuk korang.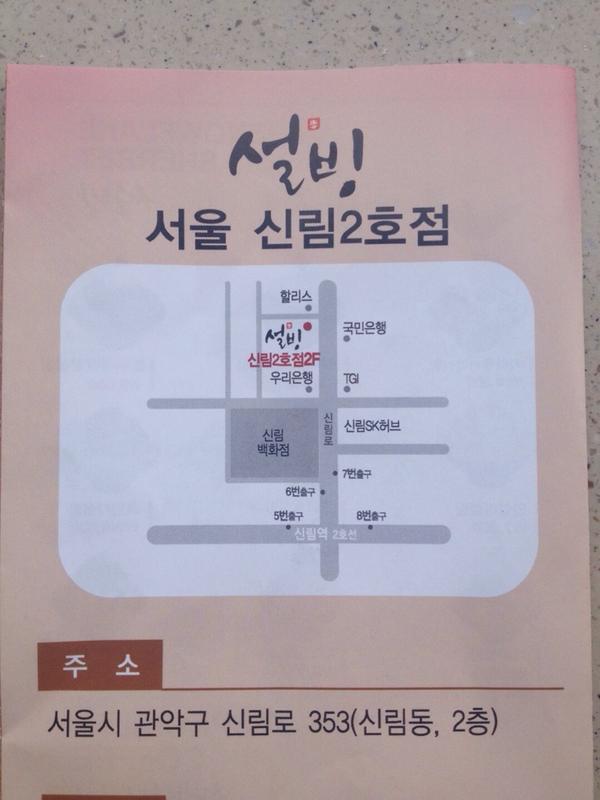 So enjoy your sulbing once you there!